Prairies North is one of our favourite magazines. The magazine features stories about the unique wildlife, people, and places of Saskatchewan using stunning photography.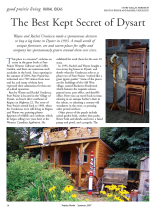 That is why we were so delighted to learn that Pure Prairie was being featured in the Summer 2007 edition of the magzine in a series about the Best Kept Secrets of Saskatchewan.
In The Best Kept Secret of Dysart, author Dallas Harrison writes,
"This place is a treasure!" exclaims an entry in the guest book at Pure Prairie Western Giftware and Coffee Garden, and there are numerous such accolades in the book. Since opening in the summer of 2005, Pure Prairie has welcomed over 700 visitors from near and far, and many of them have expressed their admiration for this one-of-a-kind operation.

Pure Prairie is a tranquil retreat that has been called "the best-kept secret" of Dysart.
We're excited that the readers of Prairies North are learning what lots of people around the world have already discovered: Pure Prairie is the Best Kept Secret in Saskatchewan!