How We Got Started

This is the story of how Pure Prairie Western Giftware and Coffee Garden or "Wayne's World," as it has been so aptly called, came to be.
Pure Prairie began in Wayne Ursulescu's garage while he was living in Regina in 1989. In his studio Wayne, a self taught artist, refined his technique of pastel painting on plaster. His subjects, old west cowboys and wildlife, were brought to life by his detailed work with pastel and brush.
In 1991 Wayne began exhibiting his art at the Western Canadian Agribition, a large agriculture and livestock show in Regina. This began a ten year association with Agribition where Wayne sold hundreds of his cowboy and wildlife statues worldwide. Wayne became well-known and was featured in the Regina Leader-Post and on CBC Regina television.

In 1993 Wayne and his wife Rachel purchased a two-storey log home in the village of Dysart, one hour northeast of Regina. This began phase two of Pure Prairie, which took twelve years to complete. As Rachel says it was not planned, but evolved like a giant jigsaw puzzle. Buildings, decks and raised beds were built. Shrubs, trees and flowers were planted, rocks and gravel moved, a pond and functional pumpstand added to complete the garden. Slowly rose the little town Wayne named Buckeroo Boulevard.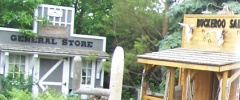 Nestled between towering spruce trees sits the Buckeroo Saloon. The inside of the saloon was finished with wood salvaged from a home built in the 1900s, including the maple flooring. It is decorated with period artifacts and memorabilia including an antique barber chair and a coal and wood-burning space heater. With seating room for twelve, it's a cool place to escape the afternoon sun.
Down the street is the General Store. Seating eight to ten people, it also is decorated with memorabilia from the past, including an early 1900s wood burning stove. Across the boulevard beneath the huge poplar trees is the Post Office. Originally built in 1930, this building was once an old smokehouse. Wayne purchased it, moved it to its present location and then rebuilt it, where it now serves as Rachel's gardening shed.

Just down from the Post Office is the Sheriff's Office. This was Wayne's studio and doubled as a place for him to have his afternoon naps. Legend has it that after a night of carousing at the Buckeroo Saloon one of the town bad boys took target practice at the glass-balled lightning rod and weather vane atop the Sheriff's Office. The rascal was successful in putting a few bullet holes in it but was apprehended and spent the night cooling his heels in the jail on the second floor of the Sheriff's Office.

In 2004, the final piece of the puzzle was put into place. Rachel had long desired to have a coffee house and so an addition on the back of the house was built to provide space for the main coffee and gift shop. The interior was finished to resemble an old barn with wood provided from a generous friend's farm. Here Rachel welcomes her guests and displays Wayne'sfurniture, art and rustic picture frames.
Since opening in 2005 Pure Prairie has welcomed hundreds and hundreds of visitors from across Canada, the United States, England, Ireland, and Australia, as well as many local visitors. With total seating for over 100 people spread throughout the buildings and yard site, Pure Prairie really is Dysart's best kept secret and a treasure for visitors.
Rachel would like to extend an invitation to visit Pure Prairie Western Giftware and Coffee Garden and travel back in time. Relax, have a coffee or a piece of Rachel's famous cheesecake and enjoy country living at its finest.
Submenu